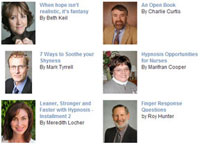 The Winter Edition of the Banyan Hypnosis E-Zine has just been published on www.Hypnosis.ORG.
Check out these articles by these talented hypnosis professionals and you will get tons of up to date information about what is going on right now in the profession of hypnotism.
While you are there have a look at our extensive list of hypnosis articles in our archive.
Note that we will be adding a few more articles to this edition of the E-Zine over the next week or so just to make it better. Tell you hypno-friends!