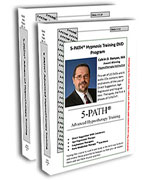 This new version of our very popular 5-PATH® DVD Course is completely NEW and UPDATED There is more than 2 Times the Information than in the previous version!
20 DVDs Full of Professional 5-PATH® Training




4 Audio CDs

Special Topics
Now you don't have to travel to learn these advanced techniques in their updated forms from this master training in their most up-to-date form! Optional certification available!
Join me in this recording of me teaching advanced basics and 5-PATH® as I demonstrate and explain everything step by step!
Order this program, study it and become an expert in Age Regression Therapy, Forgiveness Therapy, and Parts Mediation Therapy. Become a 1%er, the best of the best in the profession when you master these skills.
Boost your success. Boost your practice. Help more clients and earn more from your hypnosis practice with this skill & confidence building course.