I just got this in an email from one of our CPHIs (Certified Professional Hypnosis Instructors). It is an old joke but I figured there has to be a hypnotist out there somewhere who hasn't heard it yet. Enjoy!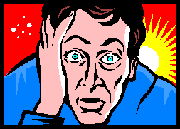 Claude the hypnotist exclaimed: "I'm here to put you into a trance; I intend to hypnotize each and every member of the audience."
The excitement was almost electric as Claude withdrew a beautiful antique pocket watch from his coat.
"I want each one of you to keep your eye on this antique watch. It's a very special watch. It's been in my family for six generations."
He began to swing the watch gently back and forth while quietly chanting:
"Watch the watch, watch the watch, watch the watch . . ."
The crowd became mesmerized as the watch swayed back and forth, light gleaming off its polished surface. Hundreds of pairs of eyes followed the swaying watch, until suddenly; it slipped from the hypnotist's finger and fell to the floor, shattering into a hundred pieces.
"Oh, Sh*T!"
said the Hypnotist.
. . . . it took three days to clean up the place!!