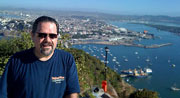 I'm just going to make a quick post to let you all know that right now I am in Mazatlan, Mexico.
Everyone here is very interested in learning more about hypnosis once they find out that I am a hypnotist. In fact, I have had several requests for hypnosis sessions! But, I am disappointing them all. I don't conduct hypnosis sessions when I am on vacation. It would be fun to come back some time and offer a hypnosis certification course here or some other beautiful place in Mexico.
Well, that is it for now. I hope all of my American friends had a great Thanksgiving Day celebration with family and friends!