Save on the The Informing Soul Technique! This is my "secret weapon" that gets results when other techniques fail. Read on and learn more…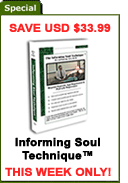 Learn how to make your past life regression sessions more powerful by passing important information about this life's intentions to the physical aspect of your client in a way that "tears the veil of forgetting". This powerful technique allows your clients to know what they knew when they were in pure spirit form.
Imagine enabling your clients to know what they came into this life to accomplish. This greatly increases the value of the sessions that you are providing and can greatly increase your number of referrals.
Doing this kind of therapy is simply one of the most satisfying experiences you will ever have as a hypnotherapist. Learn my Informing Soul Technique and go beyond your clients' expectations, and take your hypnosis practice to the next level!
Let me ask you one very important question…
What are the two most important days in your life? I'll give you a hint, one of them is the day that you are born.
Do you have any guesses what the second most important day is?
No, it is not when you die. It is not even when you get married, have a child, retire or anything like that.
The other most important day in your life is they day you learn why you were born! Certainly why you came into this life is the most important thing you could do now, because it positively affects your whole life from then on!
This knowledge gives us a purpose in life. That is the great gift that you can give your clients when you have mastered the Informing Soul Technique.
Basically, the Informing Soul Technique can be understood as the use of hypnosis to enable an individual to go before she was incarnated, back to her pure soul consciousness.
Once in this state, the hypnotist can speak to the soul of the individual and find out why she is coming into this life, and gather other information as well.