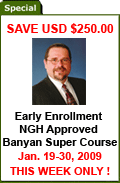 It doesn't matter whether you want to enter the profession of hypnotism and hypnotherapy, or if you have already been certified, your next step is to take my NGH Approved Hypnotherapy Certification Course with 5-PATH® and 7th Path Self-Hypnosis®!
Register This Week &* Save $250.00
Click on the graphic or click here and you can get all the details about this upcoming class to be held at the famous Banyan Hypnosis Center, in Orange County, California. You will get exactly the training you need to become one of the best in the world, a real Hypnosis-1%'er™!
Take someone else's course and you just might end up being a Hypno-wimp. Don't let that happen to you. 🙂
Got questions? Call our office at 714-258-8380 or 800-965-3390. We can help you with all the information including hotel reservations and flight suggestions.
See you in class!