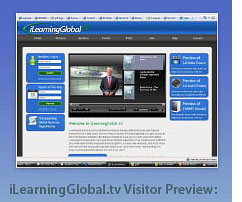 Now this is exciting! There is a new personal & professional development site that is just being launched in February. The name of the site is iLearningGlobal. It is in the beta process right now (and you can have an early look right now if you wish).
I'm excited because I am thinking that this site's service may be great for my office because my clients and students can go to this site anytime, day or night (around the world) and watch inspirational/informative video series, audio programs and lots more.
As soon as I heard about it, I had a look, and I am quite impressed with it so far. That is why I enrolled myself right away. It looks like a great opportunity to provide some very high quality learning to the whole world as well as learning some new things myself. 🙂
There is an expanding video and audio library on the site. What is really great is that I have learned about some very special trainers who are recording programs for the site right now – but it is a secret so I'm not allowed to say who, just yet. But I can tell you that they are famous, world class trainers bringing new programs that will not be available anywhere else.
As hypnosis professionals, we understand that repetition is an important factor in our success (and our client's success) when learning new principles (in and out of hypnosis). I know that, more and more, we will be using websites just like iLearningGlobal for our personal development rather than going to live programs, or buying physical audio and video programs that we have to carry around with us. Overall, this is much less expensive and much more convenient.
Just to let you know, I enrolled and thought I would pass the site along for you to check out. It may be right for your learning and teaching requirements as well. You go to
www.ilearningglobal.biz/calbanyan and have a look.
You may also be interested in using it as an additional income source as well. You can become a "partner" if you wish and integrate this into the work you do at your office, or you can simply enroll to take advantage of the features of self-growth and professional development for yourself.
I know that one reason I have been so successful in this profession is that every morning and evening, I watch, listen or read something inspirational, or motivational, or I learn about something new that will help me to grow. To see what this new program entails, go to www.ilearningglobal.tv and learn about what the site has to offer.