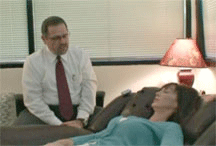 Since Celeste brought up my Informing Soul Technique training™ during this week's podcast, I thought it would be nice to put the DVD distance learning program on sale this week. But first, here is a bit of information about how this very important hypnosis technique can make your sessions more powerful…
Let me ask you a question… What are the two most important days in an individual's life? I'll give you a hint, one of them is the day that you are born. Do you have any guesses what the second most important day is? No, it is not when you die. I also don't think it is when you get married, have a child, retire or anything like that. The other most important day in any individual's life is they day they learn why they were born, or why they came into this life! This knowledge gives us purpose in life. That is the great gift that you can give your clients when you have mastered the Informing Soul Technique.
Basically, the Informing Soul Technique can be understood as the use of hypnosis to enable an individual to go before she was incarnated, back to her pure soul consciousness. Once in this state they hypnotist can speak to the soul of the individual and find out why she is coming into this life, and gather other information as well. We specifically work within the period just before the soul incarnates and find out any knowledge of intentions for that life, such as:
her role and purpose in the upcoming life

any relationships continued from before

the purpose of any special challenges in this life
To learn more about this important hypnotherapeutic process and take advantage of this week's special pricing on the DVD distance learning set click here.