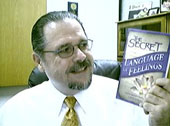 The Secret Language of Feelings™ is explained in my book, The Secret Language of Feelings: A Rational Approach to Emotional Mastery, and also on the website, www.TheSecretLanguageOfFeelings.com. On the website you will find a series of down-loadable audio programs that you can study.
Together these sources can help you gain a much better insight into how emotions are driving behavior that seems to be unreasonable. This information is very useful for hypnotists, and other helping professionals.
Have a listen to the audio programs on the website, most will find them to be informative and even humorous at times. Leave a comment here and let me know what you think.