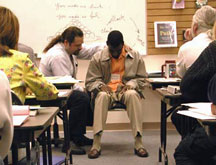 How to hypnotize someone, that is what so many people visiting this site wants to know. In fact, being a professional hypnotist, it seems like every time I go to any kind of business or social gathering, and someone finds out that I am a hypnotist, everyone wants to know how to hypnotize someone.
I tell them that, "just hypnotizing someone is easy! All you have to do is find a willing subject, read them a good induction script" and that is about it. Well, of course there is more to it. Most people want to accomplish something through hypnotizing someone, right?
So, I decided I would put together this very simple outline on "How to hypnotize some". Have a look and leave your comments. I'll place some links in the outline below so that you can learn about specific (how to hypnotize) resources, such as induction scripts, and hypnotic suggestion scripts.
How to hypnotize someone:
1. Provide your soon to be hypnotized subject with a good hypnosis pre-talk. Here is a link to an example of a video we show our clients at our hypnosis center.
2. Of course, you will probably want to know why the person wants to be hypnotized. This part of the process is called the pre-hypnosis interview. You will use this information to select or create the suggestions that you will use during your hypnosis session.
Article/Interview where I talk about the "pre-hypnosis interview".
3. Use a reliable and fast hypnotic induction. Faster inductions tend to be more reliable when done correctly because your hypnotic subject is less likely to get distracted. All things being equal, the faster the induction the more reliable it will be in hypnotizing someone. Here are two of my favorite hypnotic inductions: the Elman-Banyan Induction and my Eight Word Induction.
4. Expert hypnotists will also test his or her subject to ensure that the subject has been hypnotized. If you are only looking for a light state of hypnosis, then simply suggest to the client that he or she is unable to open her eyes, then tell them to try to open them. When they are unable to open their eyes, your subject will be impressed! And, it is a good test for the lightest state of hypnosis. Experts will use covert testing for somnambulism when hypnotizing their clients.
Here is a hypnotic induction script with a built in test for somnambulism.
5. Once you have hypnotized someone (your subject or client) provide him or her with suggestions for getting the results that he or she wants. The simplest way to do this is to be prepared by having your client tell you what results are desired. Then write out some statements before the session that are short, simple, positive and in present tense. Combine these suggestions with the benefits of making the change.
6. Now that you have hypnotized someone, and after you have provided your subject with the desired suggestions, then you would emerge the client. This is commonly done by suggesting to the client that after a count of 1 to 3, he or she will open his or her eyes and emerge feeling great.
7. Then spend some time with your subject so that he or she can tell you about the experience. There it is. That is a very simple outline describing how to hypnotize someone. Check out the "how to hypnotize" links for the details.
Of course, you can do much more during a hypnosis session than is outlined here. To learn more, keep checking back and watch our many Hypnosis, Etc. free hypnosis training episodes. And, of course if you want to get proper training, taking one of the National Guild of Hypnotists approved Banyan Hypnosis Certification Courses is a great way to prepare for a career in the profession of hypnotism.
Now, go out there and hypnotize someone! 🙂