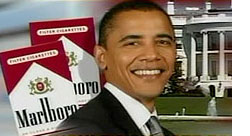 Today in a news report presidential candidate says we should cut him "some slack" for smoking because he is running for president.
Is the stress causing him to smoke? Perhaps he should find a good hypnotist!
Here is a link to the report that Obama is still smoking. What do you think? Leave a comment and let me know what you think?