Every quarter we publish a new edition of the Banyan Hypnosis Ezine. We are happy to announce the latest edition. I'd like to thank the writers who have contributed so many times to the ezine, especially Roy Hunter and Charlie Curtis who have contributed new articles to this edition.
And, I'd like to announce the addition of a new writer, 5-PATHer, Meredith Locher! I think you all will enjoy her new column very much.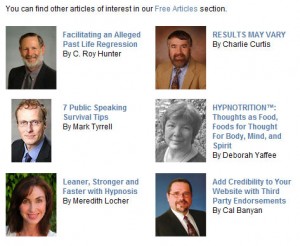 Click to select a hypnosis article.
Keep checking back, we are adding new things to this site and www.Hypnosis.ORG almost every day. Working together we can make this a better profession, and help everyone to be more successful!
Enjoy the articles, and by the way we have a huge archive on www.Hypnosis.ORG covering many different hypnosis related topics. Have a look while you are there.