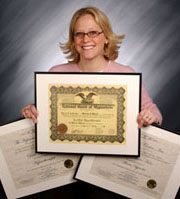 The calls just keep coming in asking "What is your training schedule for 2009?" I know, I know… Some of you like to really plan ahead! So, here is our new schedule for our NGH Approved Banyan Hypnosis Training & Certification Super Course, AND the Week of Power Advanced Hypnosis and Hypnotherapy Certification Course Schedule for 2009.
Special Note: We also have a live, offsite/online option available for these classes on a limited basis. Yes, you can learn hypnosis online! This option enables you to take these two professional courses from the convenience of your home or office. This provides a great savings for you, if you would rather not spend money on traveling and lodging. To use this option, you must have a computer that is connected to the Internet and have a webcam that you can use. With this option you can interact live with the class and me. You benefit from the course just like all the other students in class. To learn more about this convenient, money saving option call our office at 714-258-8380 or 800-965-3390 . In the mean time, here are some details about our live online hypnosis training program.
NGH Certification – Banyan Super Course – $2695.00 – $250.00 discount for 60 days advance registration and $150.00 for 30 days advance registration.
Jan. 19 – 30, 2009

July 13 – 24, 2009

Oct 19 – 30, 2009
Week of Power – $1395.00 – $200.00 discount – 60 days advance and $100.00 for 30 days advance registration.
All of these courses include 5-PATH® certification, and 7th Path Self-Hypnosis® Teacher certification, and are held at the Banyan Hypnosis Center, here in Tustin, California (Orange County).
Check out our entire course schedule we also have two more classes left this year, the Banyan Hypnosis Certification Course (October 6-10 and 13-17) the the Week of Power Advanced Hypnosis and Hypnotherapy Certification Course (November 16-22). These courses are also held at our center. Offsite, online options are available.
Oh, and one last item… We also have our first ever 7th Path Teacher's Certification Course coming up. This is for those who do not necessarily want certification in hypnosis or hypnotherapy, or already have it, and would like to become certified to teach our very special mind-body-spirit approach to self-hypnosis. That class is on October 27-31, 2008. (Not available online.)
Are you ready to become a 1%'er, best of the best in the profession? You don't want to be a Hypno-Wimp! Call our office at 714-258-8380 or 800-965-3390 , or email our Director of Admissions at Maureen@HypnosisCenter.com if you have any questions.
Feedback from our graduates (Click for More):
"This course was far beyond what I had imagined! It took me to a higher level in my life that I never realized I could go to (or need to go to). These processes of 5-PATH® and 7th Path™ are beyond verbal explanations – seeing and experiencing these amazing tools is truly life changing!"
Pam Moshé, Dix Hills, NY
"Cal presents the course material in a professional and concise manner. The course material contains the answers to many of the questions I have experienced in my 8 years as a Hypnotherapist"
Joe Packard, M.S., Bellingham, MA
"Profoundly life changing, also enabling me to help others to make profound, positive life changes. I feel overwhelmed by the thought of the possibilities for 5-PATH® & 7th Path."
John Gisslen, C.H.
"Great class! Definitely an excellent (or ultimate!) experience. I'm so glad I signed up in spite of a busy schedule. Thank you Cal!"
Susan Just
"I thoroughly enjoyed the week of power. Cal's teaching was excellent and his wit, warm and wisdom made it a most enjoyable, enriching and enlightening experience."
Tricia Woolfrey FCIPD, MNLP, UK
"The course is beyond informative! With the extensive knowledge and experience of Cal Banyan, I learned basic to advanced hypnotherapy efficiently and effectively. I learned, I practiced, and I learn more – a cycle built for success in hypnotherapy. With 5-PATH® and 7-PATH Self-hypnosis®, the whole course is transformed to a life changing experience as well. In totality, the course is not only for developing your skills and improving your knowledge in hypnotherapy, but also for programming your LIFE for SUCCESS!"
Reuben D.R. Nuval, Manila, Philippines
"Received more than I ever could imagine. 5-PATH® was structured, well taught and hands on practice gave confidence. 7-PATH™ amazing! Like transformational and I look forward to teaching/spreading this to others. Cal, you are inspirational and I do aspire to be as good (if not better!) than you. Thank you from the bottom of my heart."
Manjeet Kaur, Selangor, Malaysia
You are in for the experience of a lifetime. See you in class! Cal