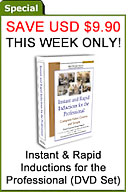 This week's special is my Instant and Rapid Inductions DVD course. It is just the what you have always needed if you wanted to master instant and rapid hypnotic inductions.
In this course you will learn as you watch me induce hypnosis in two minutes or less! The fastest induction that I teach on this DVD set takes 0 seconds. That's right ZERO seconds.
If I didn't explain how I was doing these speedy inductions on the DVDs you would not believe it could be done.
Imagine how much more effective your hypnosis sessions would be when you can create deep levels of hypnosis in a matter of seconds!
Here is what I cover in this live class, professionally captured on video:
Preparing Your Clients for Success by Using an Excellent Pre-Talk Assessing Readiness for an Instant or Rapid Induction

The Modern Elman-Banyan Rapid Hypnotic Induction (Deep Hypnosis In Two Minutes!)

Banyan Blast-Off Induction (Deep Hypnosis in about 30 seconds!)

Eye-Lock Instant Induction (Deep Hypnosis in about 15 seconds!)

The Eight Word Hypnotic Induction (Deep Hypnosis In 4 Seconds!)

Instant Hypnosis by Post-Hypnotic Suggestion (Deep Hypnosis in 2 Seconds!)

Affect Induced Age Regression Inductions (Deep Hypnosis in 0 Seconds!!)

All Secrets Revealed – Nothing Held Back.
Learning to use these inductions is one of the steps you need to avoid clients going to asleep while you go through the classic progressive relaxation induction that so many schools teach.
I know you are going to love this DVD set, and it is one of the fastest way to leave the "Hypno-Wimp" approach behind, and take a giant step toward being a true Hypno-1%er. AND, this week only you save big.
Click here to get this Instant and Rapid Inductions course on DVD now.