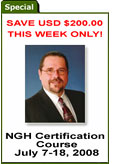 Looking for training to get you your career started in the field of hypnosis, or to take your practice to the next level? Then listen to this…
You can save $200 this week on my next NGH Approved Banyan Hypnosis and Hypnotherapy Certification Super-Course with 5-PATH® and 7th Path Self-Hypnosis® is coming up in July, 2008.
I will be conducting this course at the Banyan Hypnosis Center for Training & Services in Tustin, California. And, just in case you are curious, we are a California State Registered school (so you know that everything will be done properly).
Also, if you are from outside of the area you might like to know that there is a 2 day break in the middle of this 10 day course, which gives you just the right amount of time to check out the sites here in Southern California.
There simply is no better way to get started in the profession or boost an already existing practice of hypnosis and hypnotherapy:
Get all the basics and unsurpassed support after graduation.
Get the advanced techniques offered through no other organization.
Get trained in a professional model hypnosis center.
Much more!
And, this course is just right for hypnotists and hypnotherapists who want to take their practice to the next level:

Increase your success.
Increase the number of issues you can work with.
Increase your skills and confidence and raise to the top 1% of the profession!
Here is a link to all of the information that you want to know about this upcoming hypnosis event, http://www.hypnosiscenter.com/hypnosis-training-information.htm.
Questions? Give us a call today and when you register right away you save $200.00 off of the regular tuition. Here are our phone numbers, 714-258-8380 or 800-965-3390.
Here is another link to the feedback we have received from our grads about this course, http://www.HypnosisCenter.com/graduates.htm.
NOTE: This course will be available to students through the Internet. This is the only live, hands on course in hypnosis offered professionally over the Internet.Here is a link for details, http://www.hypnosiscenter.com/learn-hypnosis-online.htm. See you in class!