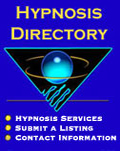 Thanks for your participation in our new free directory listing service on www.Hypnosis.ORG.
As many of you have seen, this is a great value because now you can get yourself listed for free on a website that is on the first page of Google for the search term, "hypnosis". (If you haven't created your free listing yet, I encourage you to get your listing up; it will only take about 5 minutes.)
The response has been amazing! We have only had this service up and available for less than a week and we have already had over 170 people create directory listings for their hypnosis practices. These new listings cover over 40 US States and 13 countries. We hope to take this to over 200 free listings by the end of this weekend.
Countries listed so far:
Australia
Canada
Ireland
Lebanon
Mexico
Norway
Singapore
South Africa
United Kingdom
United States of America
New Zealand
Namibia
Denmark
Wales
Now to make this even better, we have added a description box where you can say a bit about about you and your practice to grab some extra attention and provide some custom information for your potential clients.
In the future we are planning on adding additional features, such as ability to add your email address, website link, products, documents, logo, photos and more. We will let those who have created listings in the directory know about them as they are ready for you to use.
Here's to your success!