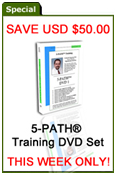 SPECIAL ANNOUNCEMENT: Save $50.00 Off My 5-PATH® DVD Learning Course THIS WEEK
You can train in your home or office in this powerful hypnotherapeutic process that is revolutionizing how professionals are doing hypnosis!
Clients come from all over the world to experience how we do hypnotherapy. We are well known for our systematic and very effective way of doing hypnotherapy. Hypnotherapists have come from all around the world to train with me to learn this advanced & systematic approach after reading my #1 Hypnotherapy book.
Now you can sit in on the class right from the comfort of your home or office and learn this powerful approach to doing hypnotherapy – AND save $50.00 THIS WEEK.
Learn more about this Advanced Hypnotherapy Course.