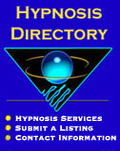 Two days ago the word got out. Hypnotists can get a free listing in our new hypnosis directory… Wow, the response for the free listings on our new directory on www.Hypnosis.ORG has been tremendous! In just a couple of days over 90 people have received their new listing, and we expect that will go over 100 by the end of the day.
Thank you for your interest. If you haven't been on www.Hypnosis.ORG in the last 24 hours you will want to check it out because we have placed a real obvious link on the main page that will take you and all the visitors to the site right into the directory.
If you haven't got your listing up on the site yet, make sure to do that ASAP. It is really easy.
Remember that not all countries are listed there, and if you live in a country not listed in the directory, we are happy to add it, just send an email to maureen@hypnosiscenter.com and let him know you want to be listed on the directory and that you need him to add your country. We will get your country up on the directory and approve new listings within on business day. Do it today and have the listing up for the weekend.
Please pass this invitation on to all hypnotists, hypnotherapists and stage hypnotists who you think would like to be listed!
Leave a comment below and let us know what you think!