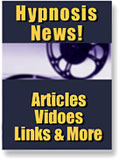 I ran accross these interesting news items and just had to pass them on. They are from the Russian newspaper Provda.
Russian police to use hypnosis to investigate crimes
Lekanov says the first steps in the usage of hypnosis for investigative purpose were made about twenty years ago when his female relative tried to give up smoking. The woman asked psychologist Vladimir Kucherenko to help her.
Hitler was Hypnotized to Overcome Blindness!
The future Furer was hypnotized in the military hospital where he was brought in October 1918 in a difficult psychological condition; he persuaded himself that he had lost his eyesight after the gas attack. Hitler considered himself to become completely blind although the doctors claimed his eyesight was normal.
News clips and links like these can be found on www.Hypnosis.ORG in the Hypnosis News Area.