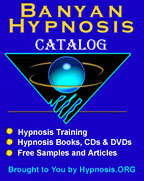 NEWS FLASH! The Spring Edition of the Banyan Hypnosis E-Zine has just been published!
In the 'zine you will find my article, Knowing the Difference between Hypnosis, Suggestibility and Compliance Will Increase Your Success, along with articles by our other contributors.
Here is the first part of my hypnosis article. Use the link below it to read the rest of the article and the other hypnosis articles by our other great contributors!
Knowing the Difference between Hypnosis, Suggestibility and Compliance Will Increase Your Success
I have to admit that I have been a bit surprised by the responses I get when I ask trained and experienced hypnotherapists, "What is the difference between suggestibility and compliance?" In my advanced classes, like my 7-day course (the Week of Power), the question makes for a good starting point, and their answers give me an insight into how well they really understand hypnosis.
What I have learned by asking this question is that even advanced students of hypnotism often lack clarity about these two very important terms "suggestibility" and "compliance" and the concepts that they represent. I believe that having a solid understanding of these terms is essential to understanding what hypnosis is and is not. Furthermore, I believe that a good understanding of these concepts is essential to obtaining consistent success, even with difficult clients. In this article, I will suggest some definitions for these important terms and explain them in order to guide the practitioner to a higher level of success.
I believe that having this level of understanding of these two words should be an integral part of a hypnotists' training. Otherwise, the hypnotist may confuse a client's compliance with some level of hypnosis.
So, what is compliance and when or why is it important?
In order to have hypnosis occur, there must exist in your client the ability to become more suggestible than she is in her normal state of consciousness. In fact, one could define hypnosis as simply being…
Continue by clicking on this link, Banyan Hypnosis E-Zine.
Buy the way you may also seeing our entire collection of free hypnosis and hypnotherapy articles.