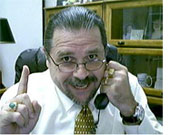 We did it! The teleseminar on NLP with Dr. Wil Horton was conducted yesterday morning. It really turned out great, he answered all the questions that was sent in for the teleseminar (thank you all for that).
Also, he gave us a couple of really NLP techniques that you can use on yourself, or you can use with clients in your next session.
Check it out at www.Hypnosis.ORG/nlptraining, and you will find that there is more information about his upcoming course there as well. Enjoy!
(Oh gosh, I have to tell you that I had difficulty with getting the recording started so there is about 1 minute of the call missing at the begining about how Wil got into NLP. The rest is perfect!)
By the way, you can also hear the Jerry Valley & Tommy Vee Stage Hypnosis teleseminar at www.Hypnosis.ORG/show! You can also hear all of our past Meet the Pros Seminars at http://hypnosis.org/hypnosis/free-hypnosis-seminars.php. Enjoy!