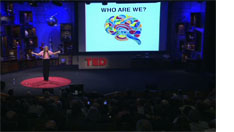 In this amazing presentation, What Happens When a Brain Scientist Has a Stroke? You get many answers, but more importantly, you get some even more important questions.
Everyone needs to see this, especially if you are a hypnosis professional.
http://static.videoegg.com/ted/flash/fullscreen.html?v=/ted/movies/JILLTAYLOR-2008-2&cid=/ted/movies
Have a look. Ask "who are we" and leave a comment. Enjoy!