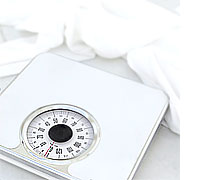 Last year I announced that I would lose weight for the 2007 NGH Convention and I proudly walked into that convention having lost 35 pounds! This year I am committing to go all the way, and reach my ideal body weight. In order to do this I'm going to give a mysterious "weight release" program a test, and integrate it into my plan.
I expect that this nutrition system, which is said to contain "super foods" will enable me to do this in an healthy way, which will help me to reach my other goal, to complete a 100 mile bike race! It also appears that the system will be in-line with my mind-body-spirit approach to life that I have taught for so long, because it consists of live foods, and a balanced approach to nutrition and exercise.
What is this "mysterious weight release" program? Those who have known me over the years have heard me talk about how toxins held in the body can lead to gaining fat and excess fluid retention. This knowledge led me to using a couple of different detoxification systems in the past. Unfortunately, the ones that I have used in the past have been incredibly inconvenient. One "cleansing" system I used a few years ago had me soaking in a hot bathtub for 50 minutes every day. I did that for a year! Yes, I felt better, got healthier, but jeeeez, I really didn't want to do that again!!! And, the weight loss was not really all that impressive.
So, I knew that detoxification was needed if I were to get down to my optimum weight, and attain the health I wanted to attain, but I just didn't want to go through all of that mess and inconvenience I had experienced in the past. With that knowledge and experience behind me, I started looking for something else that I could test out… That is when my wife, Maureen told me about some of the results that two of our grads were having with this new mystery "weight release" program. And, once I found out that it was a super easy and super healthy way to go about "nutritional cleansing" I became interested in finding out more.
Then as "coincidence" would have it, I heard an audio recording on the Internet made my Tom Nicoli, about how it had helped him to lose 25 pounds! Since then I found out about another one of our grads who had lost 27 pounds in about a month, or so on the "nutritional cleansing" system. With that new information, I got on the Internet and started to look around. What I read was completely in line with the research that I had done on how toxins in the body can cause you to not be able to lose weight. I decided to get started, and so I ordered the system, which starts with a 30 day cleanse.
So here we are a few days later. I have my new mysterious cleansing "weight release" program and it is Day 2. I'll let you know how it goes! I know that I can follow the program perfectly because I have the power of self-hypnosis behind me to make sure that I keep on track.
This is going to be a completely fair trial for this system. I'll let you know how it goes! Keep checking back to see how I do.