This Class Is NOT A How-To-Hypnotize Class. This is a How-To-Do-Successful-Hypnotherapy-and-Become-a-"1%'er" Course!
Save with Early Registration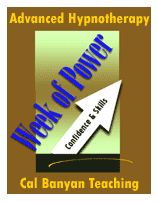 I've heard it said, "The future belongs to 5-PATH® and 7th Path Self-Hypnosis®!" Get certified in these elite forms of hypnotherapy and self-hypnosis and join the best hypnosis providers in the world.
Have you ever been to a class, seminar or lecture that is supposed to be for intermediate or advanced practitioners, and then spend most of your time listening to beginning level information? Not this class. We require that all students already be familiar with how to do hypnosis. Only small portion of the class will be set aside to review basic hypnosis training materials to make sure everyone is "up to speed," but after that it is all advanced material. However, even our "basic" material may be new most hypnotists and hypnotherapists trained elsewhere!
"It challenged everything I know about hypnotherapy and its effectiveness. I feel confident about going back to my clients and really giving them what they are searching for. Extremely well organized manual and presentation. Stayed on track so that we covered everything we needed to learn." Paula Anderson, Glendale, CA

"I'm impressed! [The] 5-PATH® approach to therapy is complete, concise, elegant and highly effective. I can't wait to implement it. And, if that wasn't enough, 7th Path Self-Hypnosis is the crown jewel. 7th Path is for everyone, everyone, everyone! It is a daily practice I am eager to incorporate into my life. This stuff is GOLD!" Anne Shuman, BA, C.Ht, CNLPP, Wilmington, Delaware, U.S.A.

"I encourage anyone considering learning hypnosis to take 7th-PATH™ and 5-PATH® before any other hypnosis training. It's a wonderful and very structured course!" Anne Murphy, Little Britain, CANADA

"The course material contains the answers to many of the questions I have experienced in my 8 years as a Hypnotherapist" Joe Packard, M.S., Bellingham, MA

Go to information and enrollment page now.
Who Is This Course For?
This hypnosis training is for the hypnotist or hypnotherapist that wants to sharpen and advance his or her skills. It is of special interest if:
It has been a while since you have gone through a certification course.
You want to improve your confidence in using age regression and other powerful techniques.
You want to update your techniques and skills to include modern inductions.
You took a distance learning course and now would like to get some one-on-one time with a live instructor.
You want to add advanced self-hypnosis to your skills.
Our hypnosis training system gives you what you need to be much more successful and accomplishes that in several ways because:
You learn and use some of the most powerful hypnotherapeutic techniques, and you get powerful results.
You use them regularly and systematically in 5-PATH®, so you become a master of these techniques.
You have a system and know what you are going to do next, so you become more confident.
This system has been used to help thousands of clients, so you can feel confident learning and using it.
There is lots of support for you after your graduate by email, online support group and telephone.
The System Is Called Five-Phase Advanced Transformational Hypnosis, Or 5-PATH®
When you take this professional hypnotism course you will learn:
How to do instant and rapid Inductions.
How to turn each client into an excellent hypnotic subject.
How to use convincers and testing to get maximum results.
How to use techniques that make hypnotic suggestion much more powerful.
How to reliably conduct age regression sessions that get results.
How to do hypnotic forgiveness therapies (also called chair therapy).
How to do Parts Mediation Therapy.
How to set up an office that encourages your clients to get results and make referrals.
How to work with medical professionals and get referrals.
How to reduce "no shows" and how to get paid for missed appointments.
How to build your business without investing a lot of money.
These systems have been developed after thousands of hours of hypnotherapy experience. The systems that you will learn are designed to provide you and your clients with consistently high levels of success.
"The course is good and enriching, especially the 5-PATH® therapy. It is a good and powerful tool in helping smokers and overweight persons to quit smoking and reduce their body weight" Sapii Bin Kasamin, Malaysia

"This class has pulled together so many methods I've learned and put them and new tools into a useable format. 5-PATH® provides clarity to me as a hypnotist. Just do it, you'll see what I mean!" Cynthia Brooks, BSN, CH Sullivan, NH

"I appreciate 5-PATH® as being a full comprehensive method to have guidelines which will allow you to establish a practice with all aspects, from intensive content to business structure. " Marcell Osterwalder, Lugano, Switzerland

"The 5-PATH® is an organized approach to hypnosis, much needed in the profession. This is amazing! " Maryann Boulton, Staten Island, NY

Go to information and enrollment page now.
Emphasis of this hypnosis training will be placed on practical application and results.
In addition to providing you with important information and techniques, you will get to practice them, especially instant and rapid inductions, use of convincers and age regression.Each student will have the opportunity to be hypnotized and learn self-hypnosis. Experiencing hypnosis and self-hypnosis is an essential to becoming a well rounded hypnotherapist. Hypnosis and/or self-hypnosis will be experienced by each student nearly every day of the course. Here is why it is an experiential course:
On most days of the course, some time will be set aside for practicing and learning how to teach 7th Path Self-Hypnosis™, a mind-body-spirit approach developed by Mr. Banyan. Most of our students find this to be a real bonus!
Most days of the course the office, classrooms and practice rooms will be open for practicing techniques before the class and after the class averaging a total of these hours a day. This will be a great time to practice hypnotic inductions, deepening and testing techniques as well as doing hypnotic age regression.
If you would like to be hypnotized by the instructor make sure to volunteer during the class. Your instructor will conduct live demonstrations of several inductions, deepening techniques, overt and covert depth testing techniques and more on a few willing volunteers from class.
The class will also view videos of Cal Banyan conducting real hypnotherapy sessions, which will include examples of rapid and instant inductions, deepening techniques, hypnotic suggestion techniques, age regression, the Informed Child Technique, and Forgiveness Therapies.
"Excellent as a skill building and personal development course. 5-PATH® brings the professional level of hypnotherapy to new and significantly higher standards. The course materials are complete and well developed. The blend of lecture, experience, practice and videos was effective, appropriate and well balanced." Steve Gruber, BS, MA Quebec, CA

"I found the course to be very comprehensive and practical. The combination of education and practice enables graduates to get the skills and confidence they need to go out and start straight away. The 7th-PATH™ program ensures they won't be taking too much personal baggage into the therapy room!" Katherine Perry, BA

"Having attended other hypnosis/hypnotherapy training courses, this is by far the very best course I've attended. The material is well organized, the instruction is very thorough and the numerous practice sessions allowed me to cement the concepts into my brain." Mike Bowers, N. Canton, OH

Go to information and enrollment page now.
7th Path Self-Hypnosis® – A Mind-Body-Spirit Approach To Self-Hypnosis
You will be able to learn and use 7th Path™, a unique form of self-hypnosis that was designed to be used with a holistic, mind-body-spirit approach. This perspective adds tremendously to the power of self-hypnosis. You will learn how to use it personally, or to teach it to your clients.
Learn how to hypnotize yourself
Learn how to conduct a group induction
Learn how to teach self-hypnosis courses
Learn how to expand your practice and get more clients by teaching self-hypnosis classes
Learn how to teach self-hypnosis to clients making them more successful
Learn how to remove blockages to success with 7th Path Self-Hypnosis®
"Technique is simple and powerful. Cal really knows his stuff very well. 7th-PATH™ is really awesome, the experience will blow your mind! Change your life to "life time of excitement and moments of enlightenment" the 7th-PATH way!" Steve Poh Ang Junn, Singapore

"I was unprepared for the deep impact 7th-PATH™ has made on me. I have taken numerous professional trainings and this training is exceptional in that it's created to penetrate to the core of your being and to enlighten your soul. 7th-PATH™ is a gift to humanity. Its divine messages hone to potential to change our world." Donna Bird, LCSU Saratoga Springs, NY
7th Path Self-Hypnosis® is a phenomenally powerful hypnosis system that works like an antivirus software program for the human mind. It allows the practitioners to clear out old blockages that they may not even have been aware of, and then program themselves for success. And, you will be able to do this for yourself as well.
FREE Extras and Unsurpassed Ongoing Support Program :
INCLUDED 11 by 14 inch Certificate (5-PATH® Certification)
INCLUDED 5-PATH® Manual in a 3-ring binder.
FREE web page on our Hypnotherapist Directory.
FREE ongoing support through our International Online E-Mail Group on Yahoo!
FREE membership in the International 5-PATH® Hypnotherapists Association.
Special Bonus–If you qualify. If you have been previously trained and/or certified in the practice of Hypnosis or Hypnotherapy, you may be able to combine that training with these additional hours and become a member of the National Guild of Hypnotists as a Certified Hypnotherapist. To qualify, students will need a minimum of 40 hours of training and experience before enrolling in this class.
Go to information and enrollment page now. Learn about live onsite and offsite learning options!