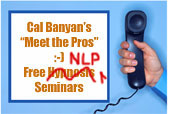 First, thank you all for giving me those questions about Stage Hypnosis for Jerry Valley and Tommy Vee. Your questions really made the seminar great.
Next week, I am going to do a seminar with Dr. Wil Horton on how NLP can help hypnotists and hypnotherapists to be more successful. Of course the main reason he is willing to do the seminar is because he is going to do an NLP training for hypnosis professionals at my center in June, but I figure we should use this opportunity to get as much information out of him as we can. 😉 I certainly got a lot of information out of Jerry Valley and Tommy Vee! If you still haven't had a listen to the seminar, go to www.Hypnosis.ORG/show.
So, once again, I'd like you to leave me some questions for me to ask Wil on Wednesday (in the Comments area below this post). I don't have the exact time of the teleseminar nailed down yet, but I will let you know as soon as I do.
In the mean time think about what you would ask an NLP trainer if you had him all to yourself for about an hour. Then I will do my very best to get that information out of him next week.
Have a GREAT weekend!
Cal
PS Here is a link to the webpage, NLP is the Hypnotists' Secret Key to Success, which is all about the NLP course Wil Horton will be teaching in June.