We will not be publishing a Hypnosis, Etc. program this week. So in it's place I am very happy to provide you with this program! I think you will enjoy it very much.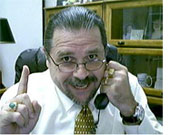 I just finished recording one of the most information packed hypnosis tele-seminars I have ever done and I am inviting you to listen to in for FREE. The name of this hypnosis tele-seminar is Going Pro in Stage Hypnosis AND/OR Getting Paid to Promote Your Hypnotherapy Practice
In this informative stage hypnosis seminar Jerry Valley and Tommy Vee, both very well known stage hypnotists and instructors, tell you about how to get into the profession.
They also and answer a whole bunch of questions which were sent in advance, as well as some of the questions that were asked by the participants.
Here are just some of the questions answered:
How can I use stage hypnosis to promote my hypnosis practice?
How can I get started in stage hypnosis?
How can I market my practice and stage hypnosis performances for free?
Who makes the best subjects for a show?
How do I know who they are, and how to do get them on the stage?
Jerry Valley and Tommy Vee answered so many more questions about stage hypnotism than I have listed here. I think you will be really impressed with how much they are willing to share.
To listen to this recording of the stage hypnosis seminar and get more information about stage hypnosis, including their upcoming course go to, www.Hypnosis.ORG/show now.
You can read Jerry Valley's articles and his Deluxe Stage Hypnosis DVD Training Program on our website, www.Hypnosis.ORG. Remember that is ".ORG".
If you have any questions about their upcoming show and how you can save over $400.00 when you enroll call our office at 714-258-8380 or 800-965-3390.