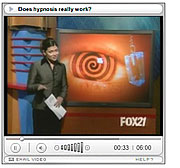 This is a great news program from FOX NEWS 21 in Colorado in which a hypnotist helps Christina Salvo to over come her fear of snakes. Pass this around, it has a very compelling video that shows the fabulous results obtained. It is a great promotion of the power of hypnosis.
Properly trained hypnosis professionals have known for a long time how to use the power of hypnosis to overcome such irrational fears, and our ability to help others is not just limited to the fear of snakes. At the Banyan Hypnosis Center we commonly work with fears of public speaking, heights, driving, test taking, and just about everything you could imagine.
If you want hypnosis training to learn these techniques and more, be sure to check out this linked page. We have Certified Professional Hypnosis Instructors across the USA and other countries as well.
If you need a hypnosis script or session on audio download we recommend this site.