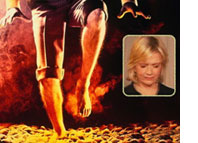 HYPNO-NEWS FLASH!!! According to the ABC News website hypnosis is going to be the main theme as Sawyer walks on fire.
Here is what the article says, "Sawyer's "GMA" dare will be to walk on fire. In two days the she will undergo the ultimate challenge, using her mind to conquer her fear."That is right, "…Wednesday in Times Square Sawyer and some "GMA" staff members will walk across scalding coals — burning at a temperature of 1,000 degrees Fahrenheit."How could she do that!?! By seeing a hypnotist first to get her in the "zone".
Go here and read the whole story and see a video of what is coming up!