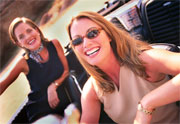 It seems like all we hear on the news nowadays, is that the economy is not chugging along at the same fast rate as previous years. And, we have even heard rumblings from some hypnotists, and hypnosis trainers that enrollments for some classes are down, or not growing at previous rates.
This is when diversification and working with others can be so important. If 100% of your income comes from working only with clients, or with clients and giving classes, you may have been feeling the pinch. Unfortunately, most hypnosis professionals do not have a strong background in business and financial principles.
Here are two things that you can do to get through tough times:
Diversify.
Partner with others.
Smart hypnosis professionals are doing just this and reaping the rewards. Others just don't have the background that they need to do this, and it seems so complicated.
Well, like I've said in previous articles and messages, one of my main goals in the profession is to help more hypnosis professionals go full time or to start making more money for their full time practices. That is one reason why I have created the affiliate program for you on my website, www.Hypnosis.ORG. By becoming an active affiliate, you diversify your income stream by adding cash flow from other people's products and classes. Successfully placing one student in one class can easily make you $400.00, $500.00 or even more. This is just about the simplest way to partner with others who have resources. In this case, you can quickly and easily partner with all the teachers and writers who are listed on www.Hypnosis.ORG.
You can make money by becoming an affiliate and recommending books, CDs, DVDs and live training from some of these teachers and writers (short list):
Jerry Valley – Stage Hypnosis Course – Las Vegas, NV
Wil Horton – Basic NLP Course for Hypnotists – Tustin, CA
Cal Banyan – Week of Power Advanced Hypnosis Training – Tustin, CA
Marifran Cooper – Banyan Hypnosis Certification Super-Course – Rochester, NY
Susan Just – Banyan Hypnosis Certification Super-Course – Minneapolis, MN
Peggy Kelly – Banyan Hypnosis Certification Super-Course – Toronto, Canada
Tina Shafer – Banyan Hypnosis Certification Super-Course – Adrian, MI
Anne Shuman Urban – Banyan Hypnosis Certification Super-Course – Wilmington, DE
Omar Chavez – Banyan Hypnosis Certification Super-Course – Puerto Vallarta, Mexico
Nancy Ho & Fauziah Shah – Banyan Hypnosis Certification Super-Course – Singapore
James Ramey – UltraDepth – DVDs
Ron Eslinger – HypnoAnesthesia – DVD/CDs Set.
And, much more.
To learn more about how to become an affiliate and to start making money right now, and make this the most profitable year ever for your hypnosis practice, visit these sites:
Hypnosis, Etc. Podcast #63: Which Contains the "Secret Project" Announcement along with Ten Keys to Client Preparation for Successful Hypnosis Sessions Part 3
Now if you have email, a website, belong to a hypnosis related group or can even talk about what you do, you can diversify your income and partner with others in the profession. Now we can work together to make this your best year ever!