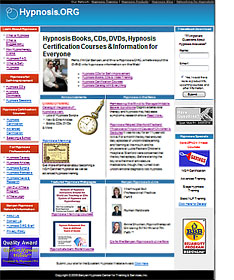 We have been working like crazy updating our new website www.Hypnosis.ORG which we purchased last year. We are really happy with how things are going so far, but I'm afraid that we are just too darn close to the project, if you know what I mean. And, because we love how it looks and works, we may not be able to see problems that would be glaring to you.
So here is how we would like you help, and we will give you a 10% off coupon to everyone who gives us some feedback on the website (good or bad, big or small).
Really any feedback will be useful, but, here are some things we are particularly interested in hearing about: overall look and ease of use, value to you, ability to actually purchase items (if you have done so).
I'd really appreciate it if you could send your feedback to customerservice@hypnosis.ORG and just put "Feedback" in the subject line. Do that, and we will send you a special coupon code that you can save 10% off your next purchase on the site.
By the way, your input is very important to us, and the faster we can get it the more useful the feedback will be, so we ask you to have a look and give us the feedback right away. We will only be giving out discount coupons for the feedback that comes in by Tuesday (Feb.26th) midnight.
Thanks for taking the time to read this and for offering your input!