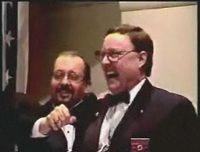 Ever wondered how those stage hypnotists do what they do? I did! That is why I took a class from Jerry Valley, and I am so glad I did. Why?
I'm ever so glad that I took this course so many years ago because I learned some "stage" techniques that have made me a better hypnotherapist! I talk about that in my book, Hypnosis and Hypnotherapy: Basic to Advanced Techniques for the Professional (coauthored with Gerald F. Kein). So, I won't go into that here.
I want to let you know that Jerry Valley, Tommy Vee, and Alex Mett have put together probably THE best course you'll find on stage hypnosis! Watch this video where Jerry Valley and Tommy Vee tell you about the course and how to save $400.00
Graduates earn $750.00 to $3,000 for a 75 minute show!
Get paid to get publicity for your hypnotherapy practice.
Learn how to get started in the business in just a few weeks.
Learn insider secrets and hidden techniques from world famous pros.
Everything you need to get started fast, and get show after show.
Travel around the world if you like, with all expenses paid!
Now, you can learn everything you need to get started doing shows right away. AND, as you would guess, the LOCATION is great, the PRICE is simply unbelievable and you are going to have a GREAT time. I'm even thinking of taking the course a second time, it is that good!
I'm teaching a hypnosis certification course right now, so I can't give you all the info right now, BUT because there is a HUGE $400.00 DISCOUNT for EARLY REGISTRATION, I wanted to get this link out to you TODAY so you can "read all about it!" as they say. Get the details here!
*** Oh, and one last thing… There are some hilarious stage hypnosis videos on that page you have just got to see!