Did you know that you can get free hypnosis seminars by some of the best known members of our profession for FREE on www.Hypnosis.ORG? Well, it is all part of our move to our new HYPNOSIS website. We have moved our Meet the Pros Free Hypnosis Seminars to our new site from www.BanyanHypnosisMall.com.
Here is a partial list of the names of those who have seminars on our new site.
Roy Hunter – Interview with the Famous Writer, Teacher and Hypnotherapist
Del Hunter Morrill – How to Write Great Hypnosis Scripts
Jerry Valley & Tommy Vee – Inside Secrets of Stage Hypnotism
Shaun Brookhouse – Introduction to Ericksonian Hypnosis
Debi Livingston – Spiritual Hypnosis
Cal Banyan – Interviewed on Voice America (7th Path™ & 5-PATH®)
Ron Eslinger – The King of Pain (Management) Discusses HypnoAnesthesia
Elsom Eldridge – How to Market and Build Your Hypnosis Practice
James Ramey – The Truth About UltraDepth
During these seminars these authors, trainers and experts may mention upcoming events which have already passed by. If you want to find out if they will be returning to our center this year or otherwise offer the class this year, contact us at CalBanyan@HypnosisCenter.com.
Here is a direct link to all of these free hypnosis seminars. Enjoy!
PS Thank you all for your questions about our affiliate program! In just a two or three weeks we have registered over 100 new affiliates!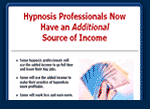 If you want to learn more about this popular new program go to www.Hypnosis.ORG/hypnosismoney and then we can start working together to make your hypnosis practice more successful than ever.