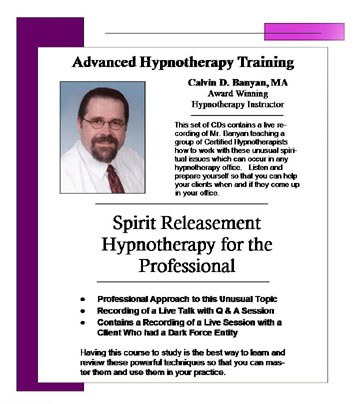 I'm very excited to tell you that the workshop that conducted on the topic of sprit releasement therapy, on sale this week, AND is now available for the first time as an instant download! The workshop was about 3 and 4 hours long and has now been produced on a set of 4 CDs (or downloads) with all of the handouts from class.
I have always been reluctant to talk on this important but very controversial topic. Despite that, I generally talk about Spirit Releasement Therapy to my classes that are of 6 days or longer. But in those courses I always kept the talk short, usually not much more than an hour to an hour and a half, or so. On this set of CDs I really get into the subject, and go deeper into it than ever before.
Topics Covered in this program, Spirit Releasement Hypnotherapy for the Professional:
Working with spontaneous past life regression
Finding attached entities and dark force entities
Removing attachments and entities
Sit in on a recording of a session where Mr. Banyan clears a Dark Force Entity
How to do a special kind of informed child work, where the informing is not done by the "adult" but rather his soul who has just gone through the planning stages for his life.
On this program I am able to get much further into the topic than I ever have before in any class. Combine that with the fact that this program contains the audio from a hypnosis session where a spirit releasement takes place makes this the complete set that you have been asking for.
Learn more…