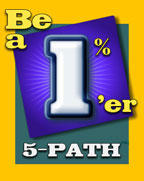 Hello Everyone. Here is this week special.
This week, you can get our 5-PATH® Advanced Hypnotherapy Training and save big. Plus, you can take the optional exam and become certified in the process which will enable you to market yourself as a 5-PATH® Certified Hypnotist or Hypnotherapist.
Hypnotist around the world have taken advantage of the ability to train at home or in their office using this course. This week you can save on this popular course.
Why 5-PATH®? With this systematic approach you build skills, confidence and in crease your ability to work effectively with a wide range of issues.
Why DVD training? With this program you are in control. You can review anything discussed or demonstrated immediately! Rewind the video as many times as you want to make sure that you get what is being discussed and review the material later whenever you want. All the perks of live training when you become certified, including our unsurpassed support. Click here to find out more or to order!
This money saving offer is good for this week only.
You can also call to order, (714) 258-8380, or Toll Free 800-965-3390