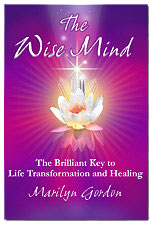 First off let me tell you that I knew I would love this book even before I started reading it. Why? Because it was written by Marilyn Gordon. I love all her books. To me she is one of my great teachers, and a dear friend.
As I write this I have read only the first 100 pages and have recognized that it is a great work which will help thousands (if not more) people around the world! For those of you who have read my book, The Secret Language of Feelings, or have learned 7th Path Self-Hypnosis® you will see immediately that this book extends and reinforces what I have believed for so long, but have not necessarily always taught in such a directly spiritual manner. Marilyn is very direct, honest and informed in her spirituality, (and in this profession–hypnotism, that can take a great deal of courage).
My highest praise goes to Marilyn Gordon and her new book, The Wise Mind, and the technique that she teaches in it. I'm sure I will write more about it later (I haven't finished the book yet).
To learn more about this wonderful book go to http://thewisemind.com and then order a copy. Do so now, I hear she has limited quantities on hand! When you are there, tell her Cal sent you, and pass on my praise for her work! She deserves it.