Hypnosis training in Singapore is now easier than ever to find, thanks to the new www.Hypnosis.sg website.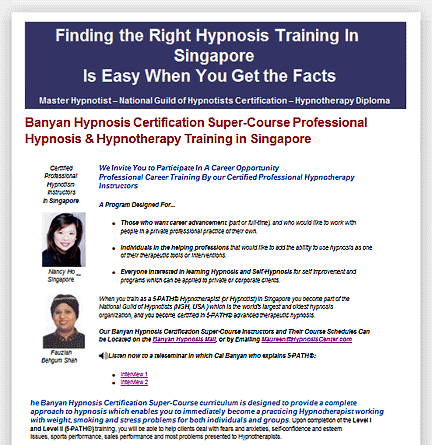 Congratulations to our two new Certified Professional Hypnosis Instructors (CPHIs) who are now teaching the Banyan Hypnosis Certification Super-Course and the Week of Power Advanced Hypnosis Course in Singapore.
Nancy Ho and Fauziah Shah are both dedicated and experience hypnosis professional who have undergone advanced training in 5-PATH® and also certified as 7th Path Self-Hypnosis teachers. To learn more about how to enroll in one of their courses visit the Singapore Hypnosis Training site now.
Full descriptions of 5-PATH® and 7th Path Self-Hypnosis are both available on the site.
For now let it be said that 5-PATH® is an advanced and universal approach to doing hypnosis and hypnotherapy that is extremely powerful, and useful for helping clients with just about every issue that they may bring into the office.
7th Path Self-Hypnosis® is a advanced form of self-hypnosis that is more powerful than any kind of self-hypnosis that came before. It is a mind-body-spirit approach to the work of self-hypnosis that approaches the process by first deprogramming the practitioner and neutralizing the cause of the difficulty that one is working, and at the same time providing a great deal of insight on the issue. This insight is a very important part of the process which can often lead to permanent results.
So, if you are looking for hypnosis training in the Asia-Pacific area make sure you check out this new hypnosis-training-in-Singapore site.
Finally, congratulations goes out to the new
Banyan CPHIs! Have a GREAT 2008!