Hypnosis in India seems to be growing faster than in China. I was just taking a look at our hit-map (see upper right side of this site at www.CalBanyan.com to see the map) and you can see that we are getting a lot more visitors from India than China. I've taken part of that map and placed it below.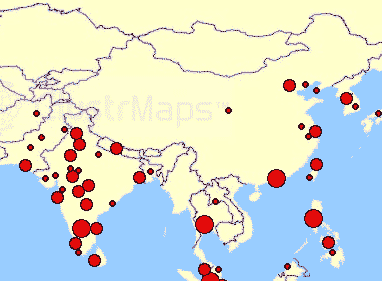 Red dots indicate visitors to www.CalBanyan.com.
Larger dots mean more visitors.
This may be because of language issues. Perhaps, there are more English speakers in India than there are in China, or perhaps there is better access to computers and the Internet in India than there is in China.
When it comes to hypnosis in China versus India, I can also say that I have had many more students come from India than from China for hypnosis certification. This is a small sample, but my prediction is that, for at least the foreseeable future, hypnosis has a better future in India than it does in China.
Well, that is my first prediction for 2008. Check back, in our next Hypnosis, Etc. program, I am planning on making some predictions about hypnosis and the profession.
What do you think? Leave a comment.