Do you want to save yourself a lot of time and effort as you set up your Hypnotherapy practice?
Then you have to get The Business Pack. We spent years developing the business system that is used at Banyan Hypnosis Center For Training & Services, Inc. Remember when you walked through our facility and we explained how it all worked? Lots of effort and money went into developing our "Model Hypnosis Center."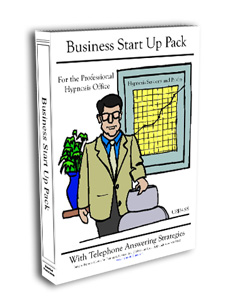 And, it comes complete with new forms and a CD with Maureen discussing all of our secrets to booking appointments to get your schedule full of appointments, on CD.
You get all of our forms (hard copy and on CD) including which are like a checklist of procedures for running a hypnotherapy office:
Client History Form, with medical codes
Physician Referral Form
Sample Brochure
Feedback Form
Message Form
First Appointment Form
Subsequent Appointment Form
Incoming Call Handling Form
Letter To Clients Who Make Appointments
Letter To Clients Who Missed Appointment
Mental Health Disclosure Form (Minnesota Version)
Appointment Policy
Stop Smoking Certificate For Clients
Client Weight History Form
Weight Loss Questionnaire
Get off to a great start or take your practice to the next level with The Business Pack and save this week!