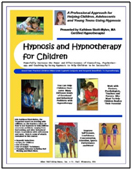 Hypnosis for kids? You bet, and here's why!
But, before I get all started on that topic, let me say, you should only work with those that you are fully trained and competent in working with. Get the very best hypnosis training you can for working with kids before you start.
If you are a competently trained hypnosis professional and you want to be more successful (and who doesn't?), you should consider expanding your practice to include children. There are at least three good reasons to do so, and if you like working with kids, then it may be just the niche you have been looking for.
Here are some good reasons to work with children:
It is the right thing to do.
They make really great hypnotic subjects.
There is more money to pay for their sessions.
Now, just let me say a few things about each of these reasons for working with kids.
First, "It is the right thing to do." Why? Let's see, doesn't it make sense that if someone has a problem that started in childhood, and in my experience, the root of most problems that grown-ups come in to see me about started when they were less than 5 years old. So, if there is a way to prevent years of suffering, then you should do it. That means that working with children is the right thing to do because it can save that person years of suffering.
Next, "They make really great hypnotic subjects." If you are the kind of person who works well with kids and teens, then you will find them to be the easiest clients you have ever worked with. Just talking from experience here, and not looking at any scientific research, I can say that kids under the age of 10 or so tend to be very suggestible to adults that they like and trust. So, spend a bit of time building rapport with this age group and you will open the door to a great deal of suggestibility even before "hypnotizing" them using a hypnotic induction. For those who are older, let's say 12 and up through the teen years, these folks are naturally talented in the use of hypnosis, and do really great when working on things that they want to work on. Most experts will tell you that the mid teens up through the mid 20's is a time in one's life in which we can best utilize and benefit from the use of hypnosis.
Finally, "There is more money to pay for their session." I say this because, when my grown-up clients come into my office, there is usually only one wallet with them. But, when a child walks into my office, even though he or she may not have a wallet or purse, realistically speaking, there are usually more than one wallet whose owner is willing to pull out the cash or credit card to get sessions for the child if he or she believes that they will help the child. By that, I mean each child often has several adults in his or her life who have funds that they would be willing to relinquish if the child needs help. How many times have we heard a parent or grandparent say, "Oh, I could never spend the money on myself, but if Billy needs it, I'd gladly pay to get him what he needs"?
So, if you like children, and they like you, and if you want to work with some of the best clients walking around while at the same time building your business, and making more money, I recommend that you look into working with kids.
By the way, working with children is a specialty that is really under served. It would be a great niche to fill. There are not a lot of good training materials out there for working with children. So I will offer a couple of links below.
How to Use Hypnosis with Children
Now, go out there and save someone years of misery and work with a kid!