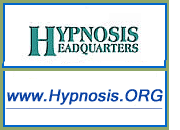 Here's something to think about over the weekend (yeah right!).
Anyway, I'd like to propose some difinitions for two very important words in our profession, "hypnosis" and "suggestibility". I just posted them on www.Hypnosis.ORG.
Definintion of Hypnosis – A heightened state of suggestibility, such that the suggestions given are accepted as being true and effect the beliefs, habits, perceptions and behaviors of an individual in varying degrees according to the depth of hypnosis established. "Deeper levels" of hypnosis enable the hypnotized individual to experience greater hypnotic phenomenon such as light states being able to create catalepsy by suggestion, and deeper states allowing the individual to experience amnesia, anesthesia, and hallucinations.Generally there are several types of hypnosis, (1) naturally occurring hypnosis, (2) hetero hypnosis, (3) self-hypnosis, and (4) waking suggestion which is similar to placebo.
Definition of Suggestibility – The extent to which a person is able to accept suggestion, which varies according to one's state of mind (i.e. normal waking consciousness or hypnosis). The greater the suggestibility that an individual is experiencing, the greater the effect that suggestions offered will affect that person's perceptions of reality. In hypnosis, which is a altered state of consciousness, one can reach high levels of suggestibility. In this altered state suggestions can profoundly affect perceptions including causing amnesia, anesthesia and both positive and negative hallucinations. When one is in a heightened state of suggestibility, the individual is said to be in hypnosis, or the hypnotic state.
Can they be improved? Like them? Hate them? Leave a comment.