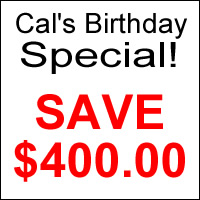 I
just got back from having a GREAT time in Las Vegas, Nevada. I didn't even take my laptop. It was time to really unwind and I'm feeling generous. You see, this week is my birthday and being in a good mood and all, I thought we should really celebrate and offer a huge one-time special on our next certification course, February 11 through 22, 2008 (weekend off in the middle).
But here is the problem… We are already running a weekly special and won't be able to list this really great $400.00 savings until next week, the week after my birthday. So what should we do?
Well, the solution was simple. We decided to make it our weekly special for next week and announce it on all of our websites as usual, but make a special announcement ahead of time on this site and to the members of our hypnosis groups on Yahoo! See, "membership does have its privileges", as they say.
So once again, the weekly special will occur for everyone else (if there are any seats left) on November 17th, but you folks are getting advanced notice and get to hear about it first. This kind of savings has never been offered before, and I seriously doubt that we will ever offer this kind of discount again! If anything, the price of our courses are likely to go up in the future.
So call us today to enroll: 714-258-8380 or 800-965-3390.
OR, click here for more information, and to enroll in this very special NGH approved hypnosis certification course.
"Yes," this course will be available over the Internet.