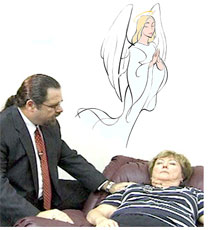 Right now, I am teaching my Week of Power Advanced Hypnotism Course at our Center, and just having a wonderful time. It is so nice to be able to teach these highly motivated hypnotists who want to become Hypno-1%'ers™.
One of the first things I am planning on teaching in my hypnosis class today is something I don't talk about much outside of my classes. I call it the Informing-Soul Technique™. It is a very spiritual hypnosis technique that we can use in a very powerful way with our clients when they have these kinds of beliefs.
I developed this hypnosis process as a natural outcome of the thousands of hours of age regression work that I have done over the years.
I thought that I would write a quick note to briefly share that hypnosis technique with you all. I hope that you like the process.
Before I do give you the very general outline of the hypnosis procedure, let me tell you that it is an extremely powerful hypnosis process that tends to generate a great deal of insight.
Here is the quick outline of the hypnosis process:
Obtain a deep level of hypnosis (somnambulism).

Conduct a hypnotic age regression to the beginning of the problem and a small percentage of clients will go to before they were born, and then you can go before that Initial Sensitizing Event, before incarnation. Or,

Simply give them the hypnotic suggestion that they regress to before they entered the body.

In either case, what we have done here is to have hypnotically divided your client into two parts, the physical aspect of your client who is in your office, and the non-physical aspect of your client which is the soul.

Now we have a wonderful opportunity to have the soul, as it existed before incarnation, able to provide information to your client.

Now we can tear the "veil of forgetting," and provide information that we forget when we enter into this life. What do you wish you knew, that only your soul knows? Here are some questions that you can then ask your hypnotized client.

Why are you coming into this life?

Are there any major goals that you want to accomplish in this life?

Is there anyone that you intend to meet up with in this life and if so, for what purpose?

How is it that you are going to have the parents that you are go to have in this life?

Is there any benefit to you or them in having this parent-child relationship?
Imagine how that would affect your clients' lives if they had that information. Wouldn't you like to know why you came into this life? Wouldn't you like to know why you have the parents you have? If you have children, wouldn't you like to know if there was some kind of purpose to having that relationship, and what the soul's perspective is on that?
Also while you have contact with the soul in this before life situation, you can also have that soul interact with other souls, teachers, and guides in that in-between-life situation. Really, using this hypnosis technique the opportunities are endless, and the results are astonishing.
I'll write more on this hypnosis technique later, perhaps an article. For now, I'm off to class!