Hypnosis doesn't seem to be a big deal in Cuba. At least that is what the map says.
When you come to this hypnosis site you may have notice the cluster-map utility that we have off to the right site of the page. (Click on it. It really is cool.) It shows where our hypnosis crazed visitors come from around the world. Just today I was looking at it and I noticed that there are no one interested in hypnosis in Cuba! At least if they are, they don't visit www.CalBanyan.com.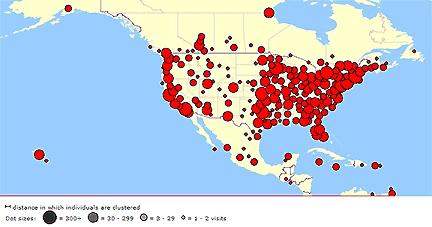 Isn't this kind of strange? I know there are people in Cuba who speak English and have access to the Internet. At least I would think so, and some of those folks have got to be interested in hypnosis. We have visitors from just about every other Spanish speaking country in the world. I wonder what is going on here? Take a look at Mexico, there are some red dots. Those dots mean that we have people from those locations come to the site.
I am very intrigued by this. If anyone wants to venture a guess as to why this is, please leave a comment.
By the way, I'd love to come to Cuba and see that beautiful country. Maybe I should set up a NGH certification course there. That would be really great. If you have contact with anyone in Cuba with who is interested in hypnosis, have them come check out this site. At least we can put a dot there, and maybe we can help spread the good news about hypnosis in that beautiful country.
Leave a comment and let me know what you think.