I would estimate that probably 90% of all hypnosis professionals are not full time and, the main reason is because they are not earning a great enough income from their practice to make that dream come true.
You cannot build a successful hypnosis practice if you don't know how to get enough clients into your office. If you only knew how to make that happen. Now you can.
To go full time, you need a steady flow of new clients. So, you need to know how to market your practice. The best way to do that is without spending a penny on advertising! Wouldn't you agree? Dr. Barry Neale agrees, and he know exactly how you can do that. That is where his book comes in and changes everything.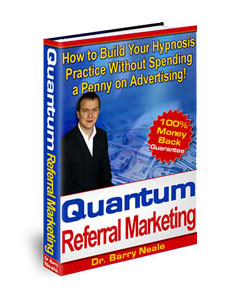 Imagine what it would be like to have all the clients that you desire. What if you could really make that happen? What if it only took a very small investment to make your dreams come true? If that is what you want, a thriving hypnosis practice, then there has never been a better time to get, Dr. Barry Neale's, How to Build Your Hypnosis Practice Without Spending a Penny on Advertising.This week you can save 10% when you order his program. (Special offer available this week through Friday, 10-18-2007 only.)
Here is what Dr. Barry Neale's course will teach you:
How to implement dozens of referral marketing systems.

How to guarantee that every client feels compelled to refer their friends to you.

You will learn the single biggest mistake most therapists make in marketing and how to avoid it.

How to get referrals without asking for them.

How to find and set up 'Host beneficiary' relationships with other business.

Ready to use 'fill in the blanks' referral letters that compel the reader to act.

How to use post hypnotic suggestions to ethically get referrals.

Discover why brochures don't work.

How to educate your clients so they refer the perfect lead.

How to set up referral reward systems.

How to create referral champions.

How to create recorded message hotlines that work 24 hours a day to drive business to your door.

Plus dozens more referral marketing tools… ready to use.

Learn more now.
I believe this program has been "the missing link" between getting started in the profession and really succeeding and having the full time practice that you have always wanted. Click here to learn more about this program or to order.