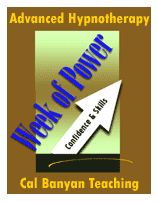 I think that just about everyone who visits this site has heard about the Week of Power Advanced Hypnotherapy Course. It is usually a 7-day information packed course for certification in 5-PATH(R) and 7th Path Self-Hypnosis.
In this confidence and skill building course you learn how to use some of the most powerful techniques available to the hypnosis professional including:
Instant and Rapid Inductions — Covert and Overt Testing — Age Regression and Age Progression Work — Forgiveness Therapy (Including the 10 Keys to Forgiveness) — Parts Mediation Work (For Success with the toughest clients) — And, More
Now, here is the timely news, because of my schedule, I am paring this course down to just 6 information and experience filled days in November! I have never done this before, and don't anticipate ever doing it again. So, this is your opportunity to get all of this information in a shorter format, so you can spend less time away from your home and office.
For more information about this course go to, http://www.hypnosiscenter.com/advanced-hypnotherapy-training.htm.
By the way, we are extending our $50.00 Discount until Friday, Oct. 12, 2007.
Oh, and one last thing, this course IS available live over the Internet. All you need is a computer connected to a broadband or high speed connection. There is more information about that option at http://www.hypnosiscenter.com/learn-hypnosis-online.htm.
Questions? Call our office at 714-258-8380 or 800-965-3390. See you in class!