I wanted to take a minute and introduce the Banyan Hypnosis Center Email Newsletter. Each week, we include hypnosis related articles from various authors, the latest hypnosis podcasts, and weekly product specials.
What's great about this newsletter is that it comes directly to your inbox! All you have to do is subscribe using the link at the bottom of this post.
Here is a sample of the content we included in the last newsletter.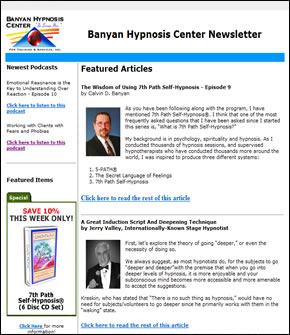 This Week's Articles
The Wisdom of Using 7th Path Self-Hypnosis – Episode 9
A Great Induction Script And Deepening Technique
The Hypnotic Seal and Narcolepsy
This Week's Podcasts
Emotional Resonance is the Key to Understanding Over Reaction – Episode 10
Working with Clients with Fears and Phobias
This Week's Special
7th Path Self-Hypnosis (6 Disc CD Set)
To view this newsletter – Click Here