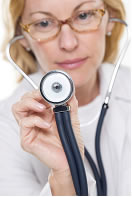 I just have to get this off my chest. Hypnosis doesn't heal anything. Every hypnosis professional needs to think about that statement carefully, and then integrate it into what he or she is doing.
When you take this approach, you help to distance yourself from those who would say that you are not qualified to work in the "healing arts." Why is that a good idea in my opinion? Too many hypnotists and hypnotherapists are getting dangerously close to finding themselves in trouble with the law and the American Medical Association.
Smart hypnosis professionals should not call themselves healers. If you call yourself a "healer" you may be giving the members of the AMA just what they need to go after you for practicing medicine without a license. When you call yourself a "healer" you make it more difficult for hypnosis professionals everywhere to practice and help those who we can help.
I recommend that you take a stand and say something like this:
I am a hypnosis professional (a hypnotist, or Consulting Hypnotist). I work with everyday people who want help with breaking habits, improving motivation and increasing personal performance, and so on.

I do have skills that people with health issues can benefit from, for example, reducing stress, improving sleep, and so on. I work with medical issues when I can partner with a medical professional who is licensed to diagnose illness and recommend hypnosis to their patients.

I am not a healer. There are only two sources of healing; your body's own innate ability to heal itself (given the right conditions) and healing which can come from our Creator.
Ah, I feel so much better now.
What do you think? Should hypnotists call themselves healers? Are you ready to take on the AMA? Do you really think that you can win that battle?