Wow! That is all I can say. The response to the Excellent Hypnosis WebsiteTM Award Program has been great, and I have seen a lot of your sites. It has been a really interesting process for me to visit all of these websites.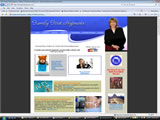 What I really liked about the whole process is that I have seen such a variety of sites. Some are very simple, and others quite a work of art really. With that I want to recommend that you all take a look at Celeste Hackett's site, it is one of the very best that I've seen so far. Check out, www.FamilyFirstHypnosis.com and you will see what I mean. (Okay, having my picture somewhere on the main page didn't hurt things any!)
In the mean time, keep submitting your requests for a site review. We will be sending out more notifications of acceptance on Monday. Remember, the site must be in English for us to review them. Perhaps later we can expand to other languages but for now we need to stick with sites that have all of their content written in English.
Just go to www.Hypnosis.ORG/award and get the details.
Oh, and a quick note… We have early registration on hypnosis certification classes and our advanced class, The Week of Power, listed on www.BanyanHypnosisMall.com with classes coming up in October and November, plus a course in Singapore in December!