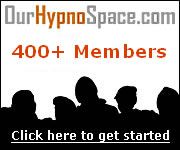 Our thanks goes out to everyone who has stopped by the new www.OurHypnoSpace.com website.
We have only been open for about a month, and over the weekend we added our 400th member! That makes www.OurHypnoSpace.com the fastest growing network for hypnosis professionals.
Why have we been so popular so far?
Look at these many benefits:
Free Website

Free Blogging

Free Hosting for Videos and Photos

Free Groups with "A Face"

Free Messaging

Free Hypnosis Scripts

And More!
And now, because of our growing membership we have upgraded the system and there are no Google Ads, just great content and networking for hypnosis professionals!
Thanks again to everyone who has joined the network, you have turned into a thriving community of hypnosis professionals.