Right now, I am teaching my NGH Certification Course with 5-PATH® and 7th Path Self-Hypnosis®, which is full. If you want to be a part of the next class here is the good news, there is still room and you can save $200 on early registration.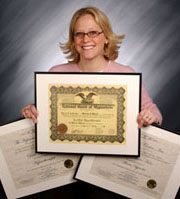 When you graduate from this course you get National Guild of Hypnotists Certification, plus Master Hypnotist Certification, Advanced Hypnotherapy Certification in 5-PATH® and you also become a 7th Path Self-Hypnosis® Teacher Certification. This ten day course (weekend off) is complete and designed to give you everything that you need to be successful.
Where: Banyan Hypnosis Center for Training and Services, Tustin (Orange County), California
When: October 1-12, 2007 (weekend off)
This course is also available over the Web.
Click this link to get the details for this hypnosis training course and I'll see you in class, or call us at 714-258-8380 or 800-965-3390.
FREE Extras and Unsurpassed Ongoing Support Program:
INCLUDED Level I & II Manuals in two 3-ring binders.
FREE web page on our Hypnotherapist Directory.
FREE ongoing support through our International Online E-Mail Group on Yahoo!
FREE membership in the International 5-PATH® Hypnotherapists Association.
INCLUDED Four 11 by 14 inch Certificates (shown on the left): NGH Certification, 5-PATH® Certification, 7th Path Self-Hypnosis® Teacher Certification.
INCLUDED The book, by Cal Banyan & Gerald F. Kein, Hypnosis and Hypnotherapy: Basic to Advanced Techniques for the Professional
More!
Get the basics, and the advanced techniques that make you successful, plus unsurpassed support after graduation! Click here to find out more
See you in class!